Step 1: Create a Key Pair
On the AWS Console, navigate to EC2 in the region corresponding to your Elastic Beanstalk Environment.
From the left side menu, under 'Network and Security', click on 'Key Pairs'.
Click on 'Create Key Pair', and provide a name, select 'RSA' as the type, and .pem as the file format, and click on 'Create key pair'.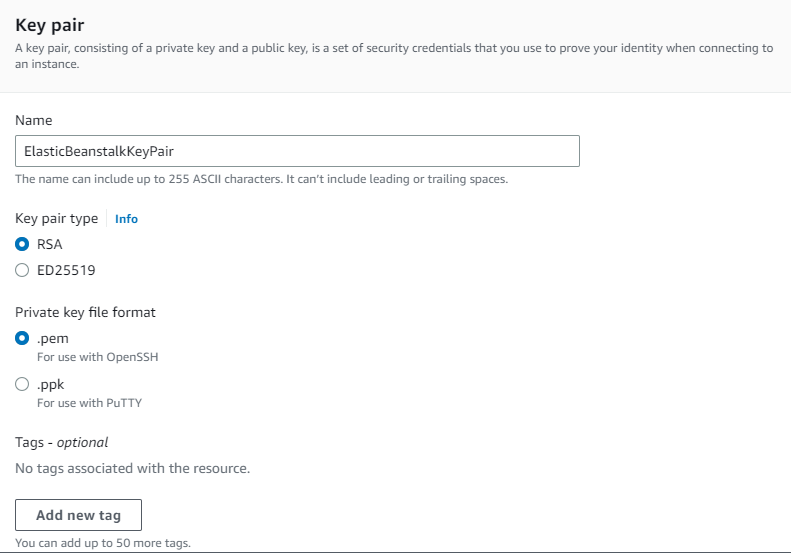 A .pem file will be downloaded on your machine. Remember where you store it. I will be storing it in d:/keys/ on my Windows machine.
Step 2: Add the Key Pair to the Elastic Beanstalk Environment
On the AWS Console, navigate to the Elastic Beanstalk environment you want to SSH into
From the left pane, click on 'Configuration', and click on 'Edit' next to the 'Security' option.
Select the EC2 Key Pair you just created in the 'EC2 key pair' section.
Click on 'Apply'. The changes will take effect.

Step 3: Identify the Public IPv4 DNS of your instance
Navigate to the EC2 Console, and identify the instance corresponding to the Elastic Beanstalk environment that you would like to SSH into.
Copy the Public IPv4 DNS

Step 4: SSH into your instance
Open a command prompt/terminal on your machine
Type the following command
ssh -i <path_to_pem> ec2-user@<public_ipv4_dns>
So, in this example, the BASH command would be:
ssh -i d:/keys/ElasticBeanstalkKeyPair.pem [email protected]
It may give you a warning saying the authenticity of the host can't be established, and will ask you to continue. Click on yes. You will now have SSHed into your instance! Congratulations!

---
I hope you liked this article. For more tutorials on AWS, check out https://iotespresso.com/category/aws/. Also, if you are planning to become a certified AWS Solutions Architect, I'd recommend that you check out this course on Udemy. I took this course and found the lectures to be lucid, to-the-point, and fun. I hope they will help you as well.